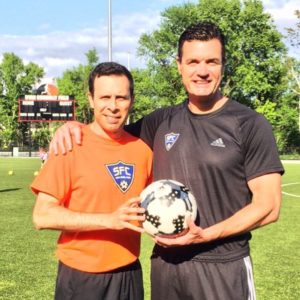 We are excited to announce the addition of two-time NCAA Division III National Champion, Tufts Mens' Soccer Coach Josh Shapiro to our SFC staff. Coach Shapiro will be taking on the role of the newly added position of Technical Director. He will oversee the technical development of SFC players by direct involvement with our teams and the education of our coaching staff.  He will implement our curriculum and facilitate the overall technical proficiency of our players. Our goal is to prepare our players to be comfortable on the ball and use these techniques to be a more skilled players ultimately improving the quality of our teams.
We look forward to working with Coach Shapiro next year, and his positive influence and coaching knowledge he will bring to the players and the staff.
Welcome to the family Coach Shapiro! Please take the time to introduce yourself and your child to Coach Shapiro and welcome him to SFC if you see him out on the field during tryouts!
You can read more about Coach Shapiro on the Tufts Mens' Soccer website.